IoT routers
No complex configuration required

Spread the cost of your hardware

Smart reboot reduces engineer callouts
"Great company, Great product, Great support"
– IVTS Ltd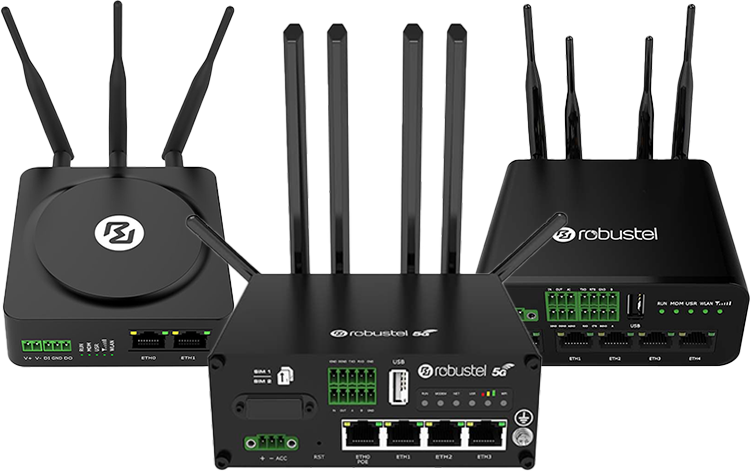 Plug and play IoT router solutions
Looking for an out-of-the-box IoT solution for swift and simple setup? Our 4G LTE and 5G routers are delivered with a preinstalled M2M SIM card, allowing for complete plug and play functionality. All of our turnkey solutions are designed with ease of use in mind, so if you're looking for a secure and scalable all-in-one solution, you should consider one of our preconfigured IoT router options to enjoy the following benefits…
"Nothing is too much for the team at InfiSIM"
Defender Defender Ltd
Next-generation 5G connectivity.
5G IoT routers
5G delivers faster bandwidth and lower latency connectivity to your IoT devices. By equipping next-generation 5G to an industry-leading IoT router, your wireless connectivity solution will come fully-loaded with hundreds of Mbps for you to use at your disposal. Our most powerful turnkey solutions just got more powerful.
Award-winning IoT routers.
Industry leading hardware
Robustel are experts when it comes to manufacturing industrial-grade IoT and M2M hardware. By combining their award-winning routers with our industry leading connectivity, your IoT deployments have never been more powerful.
The perfect one-size-fits-all solution.
Global IoT routers
Due to cost and certification requirements, most 4G routers are restricted to specific regions, preventing them from working internationally. Thanks to Robustel's investment in global certifications, our global IoT routers are equipped with 4G frequency coverage for all continents. It's the perfect one-size-fits-all solution for worldwide IoT deployments.
High-performance hardware.
Teltonika hardware
If you're looking for a versatile solution for your main or back up connectivity, our Teltonika routers are a great alternative to our Robustel hardware. With high data throughput and data redundancy, these compact 4G/LTE routers are perfect for IoT applications such as CCTV, digital signage and telemetry.
Every IoT project is different.
Get a free IoT consultation