Our connectivity portfolio.
IoT & M2M connectivity solutions
"Very helpful staff and robust IoT services" – Stortera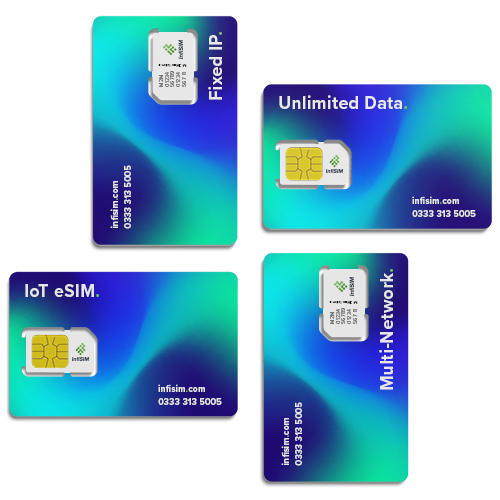 Be up and running in just 48 hours.
Your bespoke M2M connectivity solution
When it comes to our IoT and M2M connectivity solutions, we don't believe in a one-size-fits-all approach; we recognise that every IoT project is different. Instead, we'll work with you to get a full understanding of your business' requirements and tailor a solution to your unique project.
We have a number of different service options available, from simple M2M SIM cards to complex Narrowband IoT solutions. If you have an upcoming project and you're on the lookout for a connectivity partner, talk to our team for a free IoT consultation to discuss your requirements further.
A range of powerful IoT connectivity solutions.
Thanks to our comprehensive range of M2M connectivity options, InfiSIM are specialists when it comes to IoT. We work with you to design and deploy a connectivity solution that's tailored to meet your unique requirements, enabling you to increase up-time, maximise visibility and reduce costs. So if multi-network functionality, secure two-way communication, LPWAN connectivity or over-the-air (OTA) SIM administration are key requirements for your business, InfiSIM has the solution for you.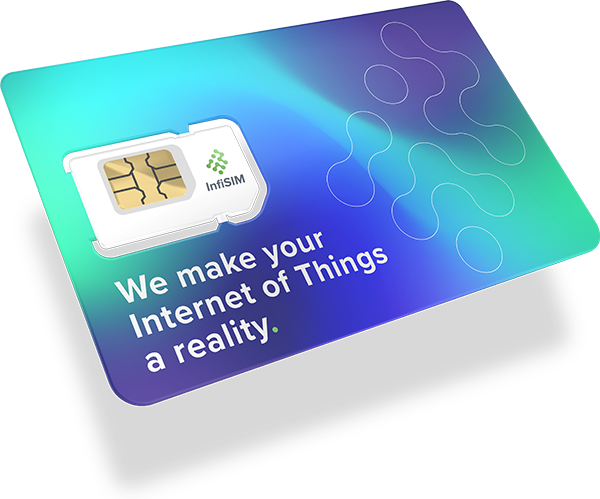 Low frequency. Low power. Low cost.
NB-IoT is leading the way when it comes to LPWAN technology. The low-power and low-cost connectivity solution has beenis specifically designed for deployments where lengthy battery life and deep penetration capabilities are a necessity. Narrowband IoT is perfect for providing connectivity in hard-to-reach places such as deep urban infrastructure and underground.
Industry leading IoT hardware.
Are you looking for an out-of-the-box IoT solution for swift and simple setup? Our 4G LTE and 5G routers are delivered with a preinstalled M2M SIM card, allowing for complete plug and play functionality. All of our turnkey solutions are designed with ease of use in mind, so if you're looking for a secure and scalable all-in-one solution, you should consider one of our preconfigured IoT connectivity options.
The opportunities are endless.
Whether it's being used for fleet management, digital signage or connected cows, there really is no limit to the Internet of Things (IoT). Businesses from every industry are utilising IoT connectivity differently and the number of deployments continues to increase exponentially on a global scale. Here are just some of the most popular applications of IoT and M2M.
We partner with 400+ IoT networks.
At InfiSIM, we provide M2M connectivity across 200+ countries worldwide. And thanks to the relationships we have with the tier 1 networks, our global data SIM cards can roam 400+ networks on a non-steered basis. Have an upcoming project but struggling to find an international connectivity partner? Take a look at our M2M network coverage map to find out which countries we cover.

Take full control of your IoT.
Take your IoT solution to the next level with our M2M SIM and device management platform, NOVA. Seamlessly administrate your SIMs, analyse data in real-time, apply cloud-based security profiles, manage and deploy usage alerts and much, much more. It's never been easier to maximise visibility and take control of your M2M SIM estate. Learn how to manage IoT devices.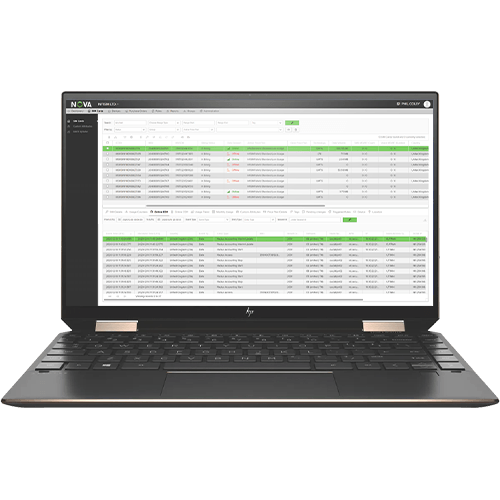 Every IoT project is different.
Get a free IoT consultation