Automate processes. Maximise productivity.
IoT in smart buildings
Clever management with IoT smart buildings
As we step further into the future, IoT technology is making the automation of day-to-day life a reality. Whether you're looking to turn your house into a smart home or turn your office into a self-running machine, IoT in smart buildings are designed to make work and home life easier and more comfortable.
IoT Smart Buildings means efficient energy usage
When it comes to energy in office buildings, there is usually a lot of wastage. Heating and lighting in business properties can be intense to run, and in many cases they are both over-utilised. This is where IoT in smart buildings can help minimise your bills. By collecting data, IoT systems and sensors can be used to automate lights and air conditioning, reducing unnecessary energy wastage. Automated systems can also be programmed to follow predefined business rules, such as setting your lights to dim just before the end of the working day. By deploying IoT to turn your building into a smart building, your business could build some compelling ROI.
IoT buildings have better security and safety
It can be a hassle to keep security systems up-to-date, especially when you have multiple different entities. Fortunately, IoT allows you to manage your security cameras, fire alarms, motion sensors and access control systems all in one place. IoT sensors can also be used to ensure that your business premises are secure when your staff leave the office. Monitor open windows and unlocked doors, and be notified of any access left unlocked after a specific time. CCTV systems such as Hikvision can also be used to alert you of any unusual activity that has been captured in real-time, allowing you to react and alert the authorities swiftly.
Smart systems empower smart buildings
Modern office buildings can be very labour-intensive to run. Many utilise lighting, boilers, elevators, air conditioning, access control and more. Overseeing all of these systems and utilities on top of managing your teams is very challenging and can be a lot for one person (or even an entire team) to juggle. IoT in smart buildings simplifies the management of these systems and ensures human error is kept to a minimum. Smart systems allow businesses to monitor building security and efficiency, report on essential business insights and maximise employee productivity and satisfaction.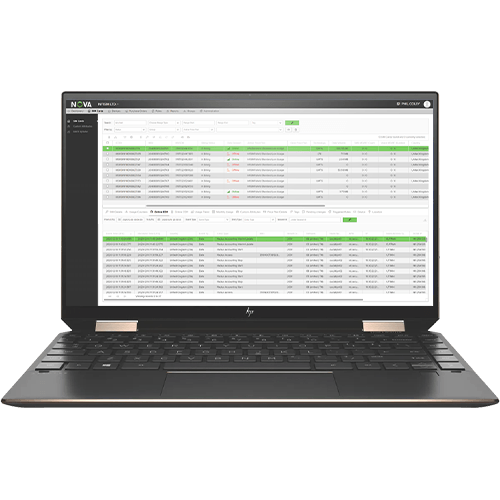 Maintaining your smart buildings with IoT
Office smart meters help you keep track of your business' energy consumption. By installing a smart meter, you will be able to make monthly projections and cut costs in areas of high consumption. What's more, they enable you to track energy usage by your assets and even monitor how much power your solar panels are generating (if your business uses them).
Data collected by IoT sensors can be used to detect the health of your elevators, ensuring they are safe to use. If your elevators require maintenance, real-time reports identify the most convenient time for engineers to do their work. This way inconvenience for customers and employees is minimised.
Every IoT project is different.
Get a free IoT consultation