Align supply and demand with IoT.
IoT in utilities
Utilising IoT in utilities
IoT devices are essential tools when it comes to reshaping the future of how things are done within the utilities sector. Companies are now able to reinforce the security of their infrastructure, improve relationships with customers and align supply and demand.
Monitoring infrastructure and site security
As utilities have opened up to advancing technologies, the number of use cases for M2M SIM cards has increased considerably. These advancements have helped both end customers and companies alike. With the installation of machines such as IoT smart meters, customers can keep track of their gas and electric usage. Plus, security on important worksites has become much stronger thanks to the deployment of utilities M2M technology.
IoT smart metering
Over the past decade, IoT smart meters have revolutionised how businesses manage their energy usage, ensuring they operate as efficiently as possible and reducing bills. Narrowband IoT (NB-IoT) works hand-in-hand with smart metering, making it more economically viable for businesses to deploy a large number of sensors so that they can monitor their infrastructure more effectively. Energy providers can use data gathered from smart meters to expand tariffs and design new pricing models too. And it's not just businesses who are benefiting from smart metering; utilities M2M has led the successful integration of IoT into our everyday households.
Keep utility sites safe
Security is always a top priority for businesses. Due to the crucial nature of utilities, it's important that they're protected from damage or malicious harm. IoT can be a big factor in mitigating security risks. Monitoring remote sites via smart cameras enables businesses to keep track of important sites that are located in hard-to-reach areas. Utilities IoT allows companies to observe their sites remotely whilst being on the other side of the globe. These IoT solutions are great for monitoring off-grid locations such as substations and reservoirs. They can even be customised to send event alerts to authorised personnel.
Protect remote utility workers
Utility workers that operate in the field can be equipped with utilities M2M technology to improve their job performance and to enhance safety. Utilities M2M technology such as mobile WAN systems are used to keep lone employees connected if an emergency occurs. This provides businesses with important employee health data and locations in the worrying event someone can't be reached. Recent advancements enable alerts on health to be monitored, allowing you to react quickly and appropriately in critical and life-threatening situations. And whilst it might seem obvious, location tracking is another brilliant feature that IoT can bring to the utilities industry. Track the location of employees, system faults, supplies, vehicles and more.
InfiSIM's bespoke solutions are a great way to keep track of your utilities and systems from anywhere in the world. Ensure you get the latest and most relevant updates in real-time.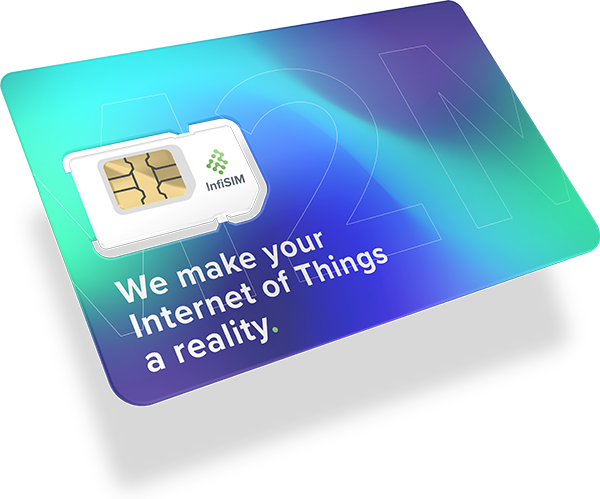 Maintaining quality services
Maintaining a high standard of quality is essential in the utilities sector. Companies must adhere to strict safety regulations, especially when it comes to water, electricity, and gas. For example, water quality is essential and needs to be kept as clean as possible. IoT sensors have been used to monitor and detect the number of pollutants in in reservoirs. Plus, they can be placed in rivers to analyse locations where pollutants could be entering the water source. This type of deployment helps deliver smart utility systems and supply standards.
Get a free IoT consultation