Transforming agriculture with smart farming IoT solutions
IoT in farming is helping to inform farmers decisions on the future of their livestock, crops and machinery. Using sensors to collect and analyse data, we're able to influence yields and efficiency in a significant way. M2M agriculture is giving farmers more control over their business.
Get a free IoT consultation…
Talk to one of our M2M connectivity specialists for all the information and pricing you need for your smart farming machinery.
Increasing productivity and herd performance
Productivity can now be monitored, measured and analysed in a brand-new way. For example, the Indian dairy industry has turned to smart farming to improve milk yields. By utilising an Automatic Milk Collection System (AMCS), milk is weighed and analysed locally before this information is traversed to a centralised record. As a result of this setup, milk quantities and yields have increased across the country.
IoT farm security
Money and time are the two most important factors when it comes to cultivating crops. Farm equipment, crops and livestock don't come cheap. Keeping eyes on them at all times seems like an impossible task, but it is made possible with IoT-enabled surveillance systems. These systems also inform farmers of any suspicious activity, sending them alerts in real-time. The alerts are customisable too, meaning farmers can set their own parameters of what events will alert their IoT security system. You don't want a notification every time a cow moos!
Analyse crop data remotely
Planning crop rotations is dependent on multiple factors, such as weather and soil conditions. By collecting information from IoT sensors, farmers can plan the most optimal irrigation, crop rotation and harvesting times. Smart farming sensors measure specifics like soil moisture, temperature and pH levels. NB-IoT can scale up these operations, making it possible to have sensors communicating from 10km apart. LPWA network sensors are low energy and low bandwidth, with batteries that can last a decade before needing a replacement.
Smart agriculture systems
When equipment fails or gets stolen, it can put farmers yields and livelihoods at risk. With telematics and smart agriculture systems, vehicles and equipment locations can be tracked. If predefined perimeters are put in place, notifications can be triggered when a vehicle leaves a certain area. The paths that vehicles take can be mapped too, meaning the most optimal seed planting distribution and depth can be found. What's more, with the possibility of self-driving vehicles becoming a reality, it might not be long before farmers won't even have to touch a seed. From sowing seeds to harvesting crops, the whole process is becoming more automated by the day.
Use InfiSIM's bespoke tariffs to collect data on your crops and keep track of livestock. Ensure your machinery is protected and tracked with our smart farming connectivity solutions.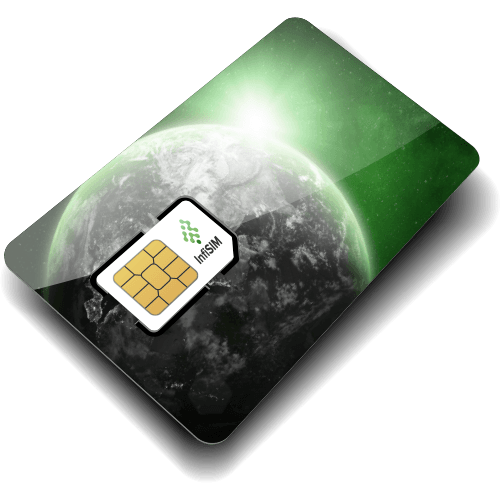 IoT livestock monitoring
Farm life can be difficult at times, especially when it comes to looking after livestock. Calving is an essential, but stressful, part of looking after livestock. Mortality rates can increase if cows aren't cared for correctly or if births are missed. Agriculture IoT can be used to detect when a pregnant cow is close to labour. Farmers are alerted of any activity in real-time, enabling them to prepare and react accordingly. IoT in agriculture allows farmers to rest knowing that they'll be notified when their cows are ready to give birth.
Trying to pick out the best mix of food isn't the most entertaining or easy task. However, IoT in agriculture is changing that! The KEENAN In-Touch system is a revolutionary new way to increase yields for farmers. It's designed to release a great, fibre-filled feed mix that's easily digestible by livestock. It also records all data relating to feeding, meaning farmers can analyse feed types, amounts and patterns to streamline and improve their processes.
Get a free IoT consultation