Best IoT routers with unlimited data bundles
No complex configuration required

Spread the cost of your hardware
"Great service, fast responses, and next day delivery"
University of Southampton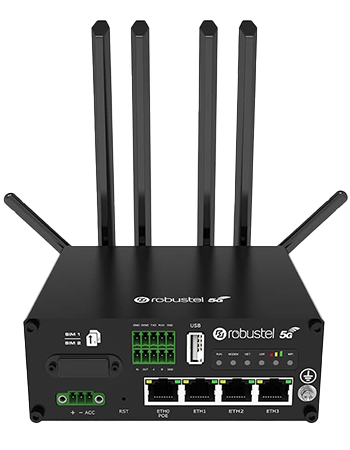 Harness the power of unlimited IoT data
Here at InfiSIM we understand the importance of reliable and cost-effective connectivity for your IoT applications. We also understand that many of these applications require vast amounts of data, which is hard to come by in the IoT space. That's why we're excited to introduce our IoT router & unlimited data bundles, available as a turnkey solution on both O2 and Vodafone.
Build your plug-and-play solution today…
Deploy an IoT router with unlimited data…
Kickstart your journey into the world of IoT with a Robustel IoT router and one of our unlimited data M2M SIMs today!
Benefits of our IoT router & unlimited data bundles

Remote device configuration

Managed service & support

Advanced replacement service

A choice of intelligent routers




Our IoT router & unlimited data bundles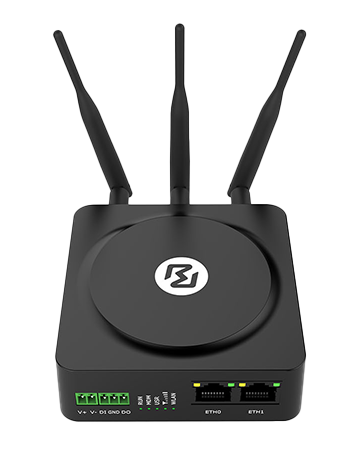 Robustel R1510
12 / 24 / 36 months
Vodafone Unlimited / O2 Unlimited
From £33.00 per month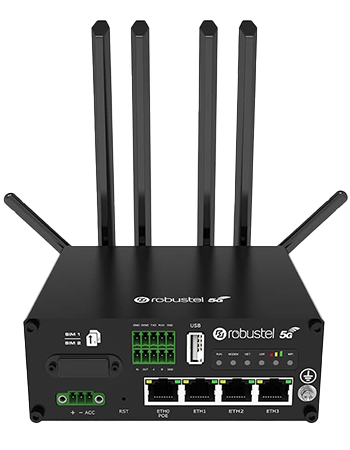 Robustel R5020 (5G)
12 / 24 / 36 months
Vodafone Unlimited / O2 Unlimited
From £50.00 per month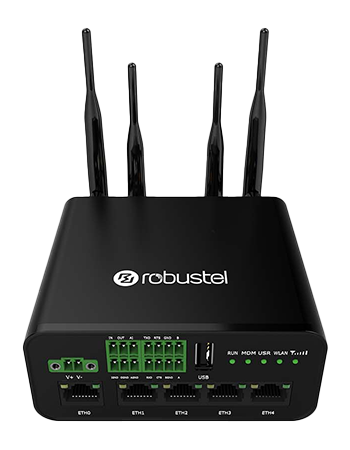 Robustel R1520
12 / 24 / 36 months
Vodafone Unlimited / O2 Unlimited
From £34.00 per month
With IoT DaaS Unlimited, a fixed IP addressed will be preconfigured into your router, giving you all the benefits of a traditional fixed IP SIM card solution. This is a huge step forward for IoT as unlimited data was previously not a viable option for applications requiring a fixed IP address.
At InfiSIM, we're dedicated to providing businesses with a reliable and cost-effective solution for their IoT and M2M connectivity needs. Our IoT DaaS Unlimited bundles eliminate the financial risks associated with data usage and costs, provide flexibility and peace of mind, and offer the added benefit of a fixed IP address.
Unsure which IoT router is most suitable for your unique project? Contact our team of experts – we'd be more than happy to point you in the right direction!
A true plug-and-play solution
Our IoT router & unlimited data bundles combine the power of M2M connectivity with the features and benefits of a Robustel IoT router. Our plug-and-play solutions come preconfigured and are ready to use out of the box; simply choose the best router for the job and we'll do the rest for you. What's more, we'll maintain your router and roll out updates remotely. That way you'll have peace of mind that your connectivity solution is always operating securely and at its optimal performance level.
When it comes to deploying IoT connectivity, it can be difficult to predict exactly how much data is needed for your devices to operate effectively. Underestimating data consumption creates a significant financial risk for businesses, as exceeding data plans could result in costly out-of-bundle charges. This is especially true for applications in which large amounts of data is a key requirement.
Traditionally, large amounts of data were simply unattainable for most businesses deploying IoT connectivity, unless they wanted to invest hundreds, if not thousands of pounds per connection. With InfiSIM's IoT router & unlimited data bundles, this is no longer the case.

The W Series is an all-female racing championship that began in 2019. Throughout 2022, it moved around the world, conducting races in Miami, Barcelona, Silverstone, France, Budapest and Singapore. Due to the popularity of W Series, InfiSIM were approached by their technical team as they needed to reinforce their networks due to too much traffic from spectators.
To help W Series with their issues, we curated a plan and tariffs that suited their specific needs. We deployed backup SIMs for their routers to ensure business continuity during periods of high traffic. This alleviated a lot of stress from the main network, as they now had a safety net for when their connection was congested.
"Our network was really beginning to struggle with the traffic it was having to deal with. We researched M2M SIMs and InfiSIM stuck out.
Alongside the increase in traffic, we needed an unsteered SIM that would be active whilst travelling around the world. InfiSIM were great in providing the perfect solution with exceptional value.
Their customer service team is always quick to respond and we cannot fault their solutions. Without the SIMs that they provided, the connection speeds and reliability would've really suffered."
Courteney Cresswell | W Series