UK connectivity by a UK-based provider.
UK M2M SIM cards
As a UK-based IoT connectivity provider, we work with all the major networks in the UK, including Vodafone, O2, EE and Three. Choose the best network for your business or roam them all with one of our UK multi-network roaming SIMs.
Connect via all the major UK networks – Vodafone, O2, EE & Three

Fixed IP / Dynamic IP options

Unsteered multi-network roaming

Aggregated data across your SIM estate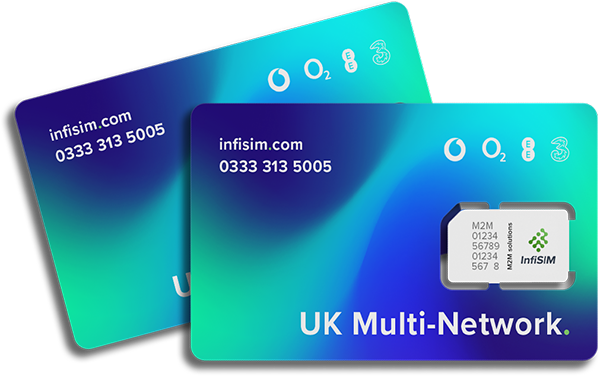 Get a free M2M starter kit.
UK M2M connectivity
Our specialist UK M2M SIM cards have been specifically designed for use across all IoT and M2M applications, regardless of your business' industry, devices, location or unique connectivity requirements. And with a variety of value-added features, you can be sure that InfiSIM is the best M2M communications choice for your business.
Stay connected at all times.
Roam the UK networks
Get the most out of your M2M solution with our UK multi-network roaming SIMs. Access all the UK networks without being tied to one provider. Increasing up-time and maximising performance has never been easier.

Remote metering & monitoring
Meet GWE, energy saving specialists. They needed a solution that would allow remote metering and monitoring to come as standard on all of their IVOs (Intelligent Voltage Optimisers). This would make their eco-max product accessible from anywhere without the need for a network connection.
Thanks to our M2M solutions, eco-max is now able to be operated on the go from a mobile device or office environment. GWE now offer remote metering, multiple meter monitoring, automated billing, sendable meter readings and controlled energy consumption to a range of national and international businesses.
Choose your form factor
Regardless of your requirements, we have a SIM card suitable for your unique IoT project. Our UK roaming SIMs are available in 2FF, 3FF, 4FF and MFF2 form factors. Industrial-grade SIM cards are also available upon request. Talk to our team for more information.
Interested in UK M2M SIM cards but not sure where to start?
Trial our M2M SIM cards
At InfiSIM, we want you to have a real experience when trialling our SIM cards. That's why we treat your trial like any other IoT project. You won't receive a predefined tariff like you do with other M2M providers; we'll work closely with you to create a bespoke trial that meets the requirements of your unique project.